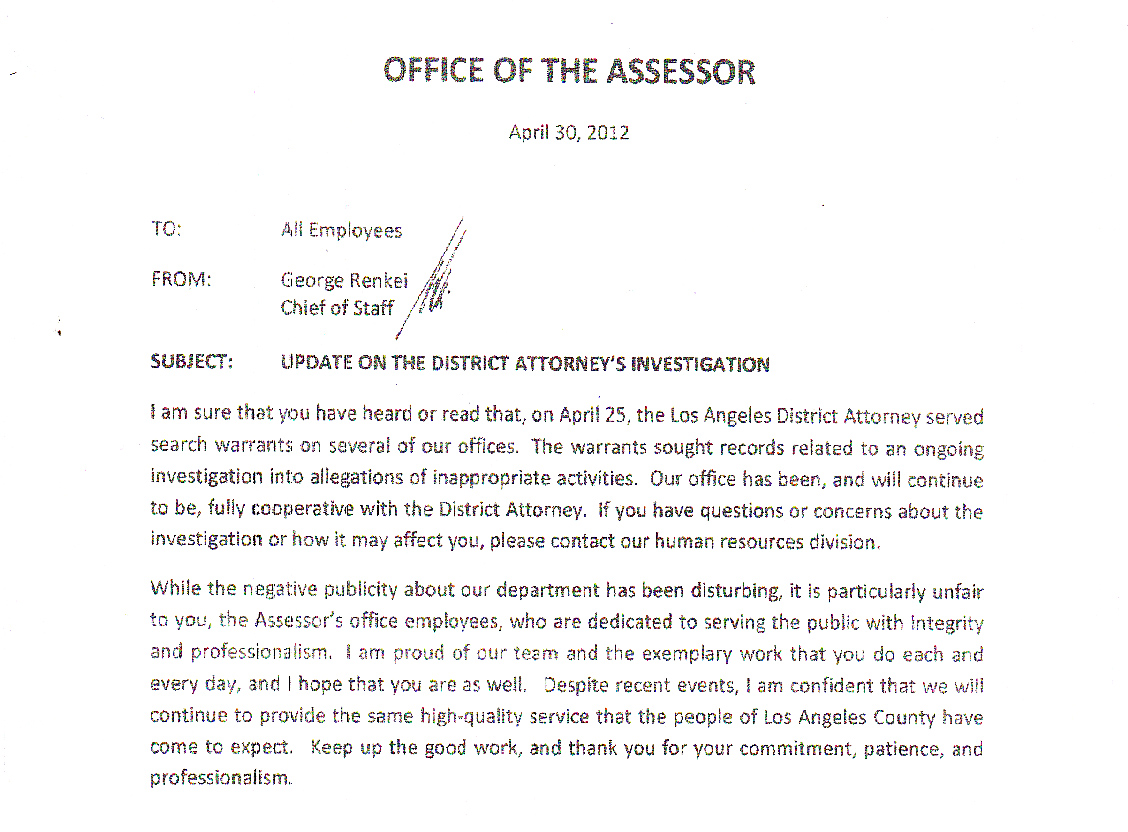 My pet peeve is when politicians and their underlings run and hid from investigative reporters.
Yep. They are "above reproach" and sometimes find it "beneath" themselves to talk to folks like me....you know....community newspaper reporters.
Anyway....I was sent lots of copies of the "internal emaisl" sent out by Lost Angeles County Assessor John Noguez Chief of Staff George Renkei recently that talks openly about the RAIDS that took place a couple of weeks ago by law enforcement agencies at a dozen locations in two states inside the "institution" he is in charge of....
PAGING GEORGE RENKEI.....
Anyway....since Mr. Renkei has never had the courtesy of EVER RETURNING ONE of MY FIFTY EIGHT PHONE calls to him about how he is conducting business on behalf of the TAXPAYERS of Los Angeles County, I have decided to print ol' Jorge's internal emails about the mess he helped created during the past several years....
Yep....Paging George....
......ahhhhhhhhhhhhh.......GEORGE?
By Randy Economy
Los Angeles County Assessor
John R. Noguez has yet to publicly respond to the massive raids that took place by members of the
Los Angeles County District Attorney
's Office of Public Integrity two weeks ago but his top staff member is speaking out for the first time in an email exclusively obtained by Los
Cerritos
Community Newspaper.
George Renkei, Chief of Staff to the embattled Noguez fired off an email to all
Los Angeles County
Assessor employees on April 30th, five days after several offices were searched, and evidence gathered in a massive "pay to play" probe that covers at least two different states.
Under the subject line "Update On The
District Attorney
's Investigation," Renkei tells employees "I am sure that you have heard or read that on April 25, the Los Angeles County District Attorney's Office served
search warrants
on several of our offices. The warrants sought records to an ongoing investigation into allegations of inappropriate activities."
"Our office has been and will continue to be, fully cooperative with the District Attorney," Renkei states.
"While the negative publicity about our department has been disturbing, it is particularly unfair to you, the Assessor's office employees, who are dedicated to serving the public with integrity and professionalism."
"I am proud of our team and the exemplary work that you do each and every day, and I hope that you are as well," Renkei said.
"Despite recent events, I am confident that we will continue to provide the same high-quality service that the people of Los Angeles County have come to expect. Keep up the good work, and thank you for your commitment, patience and professionalism," he concludes.
One
employee
, who spoke to Los Cerritos Community Newspaper on the condition of anonymity, questioned why Noguez has yet to make "any attempt to talk to his employees about the raids."
"Noguez is hiding from all of us, and getting emails from someone who just had his office raided is a tad disturbing," the source said.
To see the ENTIRE NOGUEZ INVESTIGATION AND TIME LINE visit
LOS CERRITOS COMMUNITY NEWSPAPER BY CLICKING HERE!
Copyright. Los Cerritos Community Newspaper. Hews Media Group. Permission to republish granted with proper attribution to Los Cerritos Community Newspaper.