The race between Rudy Bermudez and Ian Calderon has turned into an official "comedy act." Okay. Maybe that is a tad over dramatic. BUT, these two have got "game" when it comes to this "slug fest" for a seat in the California State Assembly. Here is the latest from Los Cerritos Community Newspaper.... I been working on this for a couple of weeks. Hard to sort through all the "paper" and "documents" and well.... Don't forget about the third candidate in the race. Noel Jaimes. Yep. This will be "The Last Candidate Standing."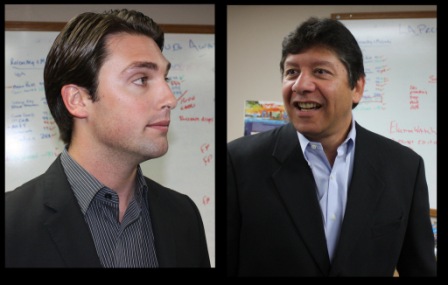 By Randy Economy
The race for a local California State Assembly seat between Democrats Rudy Bermudez and Ian Calderon has literally turned into a steel cage match that now includes charges of money laundering, and hiding personal income sources, and the filing of complaints with state campaign regulators.
Did Assemblyman
Tony Mendoza
mastermind an elaborate money laundering scheme to skirt
California
campaign finance laws to help benefit the campaign of the candidate who is running to take his place in Sacramento?
Did assembly candidate Ian Calderon fail to report $60,000 in income to state officials?
State campaign reform officials have opened up an official inquiry to determine if Mendoza and Assembly candidate Rudy Bermudez worked in tandem to avoid campaign contribution limits after $50,000 in donations were allegedly transferred between at least a half dozen campaign committees involving at least four local
elected officials
.
Mendoza is a former
Chairman
of the controversial
Latino
Caucus that is comprised of elected officials in Sacramento who serve as members of the Assembly and State Senate.
This week Latino
Caucus Chairman
Assemblyman
Ricardo Lara
blasted Mendoza in a statement that has sent several political observers into a tailspin.
"Latino Caucus Chairman
Assembly Member
Tony Mendoza, acting on his own accord and without input from Members of the Latino Caucus, provided a recommendation to transfer $50,000 from Yes We Can, an Independent Expenditure Committee (
IEC
), to another IEC prior to his resignation as Chair of the Caucus," Lara said in a prepared statement to Los Cerritos Community Newspaper.
Here is the rest of the article....