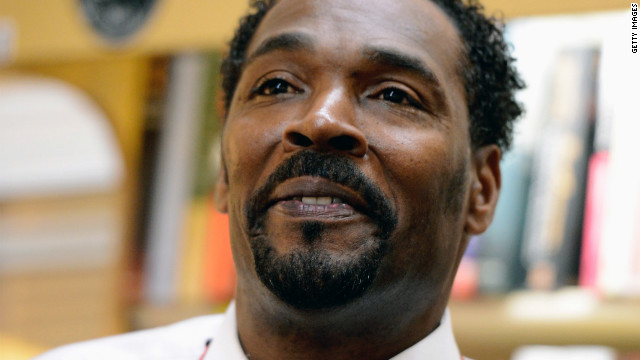 I just heard the news that
Rodney King
has been found dead here in
Los Angeles
this morning. This is from
CNN
: "Rodney King, whose beating by
Los Angeles police
in 1991 was caught on camera and sparked riots after the acquittal of the four officers involved, was found dead in his
swimming pool
Sunday, authorities and his fiancee confirmed. He was 47."
I am very saddened by his passing. He changed
America
in many, many ways. Keep him in your Prayers this day. Think about the impact this ONE person made in the lives of all of us here in Los Angeles, and around the world.
If you lived here in LA back during the "Rodney King Riots" you will truly understand the historical value of his passing today.
We really can ALL get along....
Here is more about the Life of Rodney King:
On the night of March 2, 1991, King and two passengers, Bryant Allen and Freddie Helms, were driving
LOS ANGELES, CA - APRIL 30: Rodney King arives at EsoWon bookstore to sign copies of his new book, 'The Riot Within: My Journey From Rebellion to Redemption,' on April 30, 2012 in Los Angeles, California. King is best known as the victim of a brutal police beating that took place in Los Angeles. It's been 20 years since the Rodney King verdict that sparked infamous L.A. Riots. (Image credit: Getty Images via @daylife)
LOS ANGELES, CA - APRIL 30: Rodney King arrives at the EsoWon books store to sign copies of his new book, 'The Riot Within: My Journey From Rebellion to Redemption,' on April 30, 2012 in Los Angeles, California. King is best known as the victim of a brutal police beating that took place in Los Angeles. It's been 20 years since the Rodney King verdict that sparked infamous L.A. Riots. (Image credit: Getty Images via @daylife)
LOS ANGELES, CA - APRIL 30: Rodney King arrives at the EsoWon books store to sign copies of his new book, 'The Riot Within: My Journey From Rebellion to Redemption,' on April 30, 2012 in Los Angeles, California. King is best known as the victim of a brutal police beating that took place in Los Angeles. It's been 20 years since the Rodney King verdict that sparked infamous L.A. Riots. (Image credit: Getty Images via @daylife)
LOS ANGELES, CA - APRIL 30: Rodney King arrives at the EsoWon books store to sign copies of his new book, 'The Riot Within: My Journey From Rebellion to Redemption,' on April 30, 2012 in Los Angeles, California. King is best known as the victim of a brutal police beating that took place in Los Angeles. Its been 20 years since the Rodney King verdict that sparked infamous L.A. Riots. (Image credit: Getty Images via @daylife)
On June 17, 2012, media outlets reported that King's fiancée found him dead in his swimming pool. Police in Rialto, California, received a 911 call from King's fiancee, Cynthia Kelly, about 5:25 a.m., said Capt. Randy DeAnda. Responding officers found King at the bottom of the pool, removed him and attempted to revive him. He was pronounced dead at a local hospital, DeAnda sai