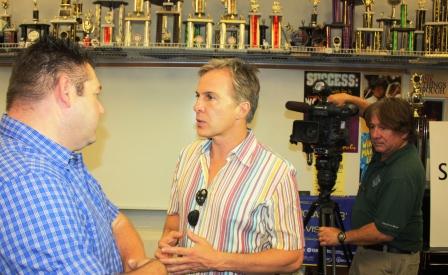 Tim Trost and Robert Kovacik from NBC News at Cerritos High School last week.....
NBC4 Southern California will be tracking the journey of the Cerritos High School Wind Symphony Orchestra on their upcoming trip to perform at the London Olympic Games.
This SUNDAY at 6 p.m. you can watch an AIRING of the Wind Symphony's JOURNEY with my pal Robert Kovacik on NBC 4!
Pass the word. BTW....our DONS
look great on NBC.... PASS THE WORD
!
xo ; )
Related articles