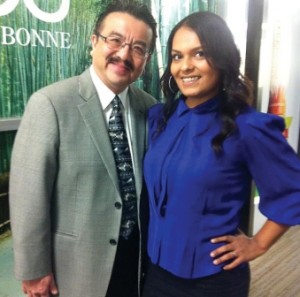 By Randy Economy
Myra Muro is in the fight of her life.
The vivacious 23 year old mother of one young son, and a resident of Norwalk have been battling Stage 4 Hodgkin's Lymphoma for the past year, and now she is grasping for hope, needed funds and the hope that a new experimental treatment plan will help save her life.
Muro, who is a popular figure at the Norwalk Senior Citizen's Center, also works as an employee for the City of Norwalk and she has been living recently in Tempe, Arizona with her mother Rosa undergoing a holistic treatment after failing to respond to several rounds of traditional chemo therapy from a Bellflower medical facility.
Myra, 23, born and raised in Norwalk, attended St. Linus Catholic School and Church, and graduated from St. Joseph High School in 2007. The former standout cheerleader at St. John Bosco High School, Muro was diagnosed with the wrenching disease of Hodgkin's Lymphoma in 2011 after she had suffered severe bouts of exhaustion, and tenderness in her upper breast bone.
After six rounds of chemo therapy, a total of 12 sessions, her doctors said that she had developed an inflammation, and on June 4 of this year, Myra was diagnosed with Stage 4 Lymphoma and it has now spread into her lungs and other areas.
"Don't want to buy into the story that doctors tell you that you have no future and no hope. We need to fight this. Chemo didn't work, now we are relying on God's promises," her mother told Los Cerritos Community Newspaper.
Myra is now receiving an advanced naturopathic treatment at the Nature Works Best Center in Tempe, Arizona. She is receiving high daily dosages of Vitamin C, Minerals, Amino Acids and other medicines.
" It is amazing work, and we can already see positive results," Rosa said. The two have been living in a one bedroom apartment near the treatment center and is expected to be there until later this coming fall.
But the treatment has taken a great financial toll. "I put my daughter in a car, and put all of our faith in God, and now the costs of the treatments are beginning to huge challenge," Rosa said.
She had dropped down to 107 pounds but since being in
Arizona
has regained her strength and energy.
"God gave us a promise, this isn't a promise out of fear, it is a promise of hope," Rosa said.
Myra has a two and a half year old son named Achillis. He recently came and visited his mother and the reunion was "amazing." "He is the light of her entire world."
The treatment is expensive, nearly $270 a day for treatment, and she has five treatments per week. "Medical insurance doesn't cover any of these expenses, and they have also had to spend $1,000 a month for a one bedroom apartment, and more than $700 for a special monthly diet.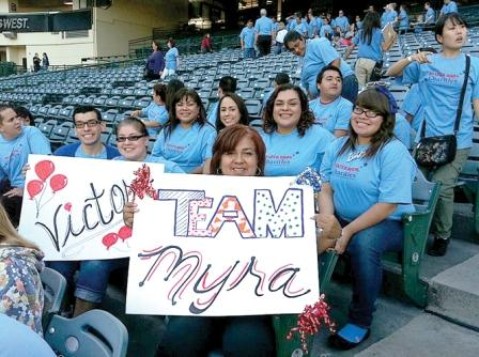 The family is in need of raising an additional $20,000 to $25,000 to finish the treatment. "It sounds like a lot, like the cost of a new car. We are holding onto a God's promises of healing, and we will not give up hope," Rosa said.
The community is being asked to attend a special fundraiser for Myra at St. Linus Catholic
Church
on Friday, August 24th from 5 to 9 p.m. in the Msgr. McNulty Hall and Gymnasium. A donation of $10 for adults and $7 for children is being asked for a taco dinner plate, but any and all donations will be accepted and appreciated.
St. Linus is located at 13934 Shoemaker Avenue, in Norwalk, across the street from John Glenn
High School
.
"I have known Myra for much of her life. She is a true product of Norwalk and our community," said longtime friend Socorro Lizalde, who is helping plan the fundraiser.
"My daughter Marissa and Myra were cheerleaders growing up. I can relate to the fear she is going through. As a parent, this is our worst nightmare. I applaud the family for taking these steps. She has touched a lot of lives. We hope that anyone who has been touched by her can step up and donate to help her in this difficult time," said Lazalde.
"The spiritual is the most important aspect of fighting this battle," Lazalde said.
Artesia community member Pat Pacheco is organizing the fundraiser, and Rosa said that "she as amazing, a giving and so touched, to help bring the community together to help us."
"Myra's attitude is very positive and she has a great outlook," Rosa said. "This is a journey she is on, and she is not sad."
For more information call Pat at 562 244-3504. For those who cannot attend a PayPal Account has been established. The Pay Pal Account code is: LovingMyraMuro@Gmail.com.