This map shows the incorporated areas in Los Angeles County, California. La Mirada is highlighted in red. I created it in Inkscape using data from the Los Angeles County Website (Los Angeles County Incorporated Area and District Map (PDF). (Photo credit: Wikipedia)
SOMETHING has to be done in Norwalk here between Carmenita and Shoemaker and Rosecrans. Another bloody weekend; This time a horrific stabbing right next to Marquez Restaurant; I LOVE the MARQUEZ family and love the new owners of this eatery that has been serving up amazing Mexican food for more than half a century.
We need to all HELP our Sheriff's here in the COMMUNITY! Time for ALL OF US TO STEP up and help STOP these awful murders, stabbings and other violent crimes. Come on, PEOPLE...
Update: Stabbing near Marquez Restaurant in Norwalk leaves victim in stable condition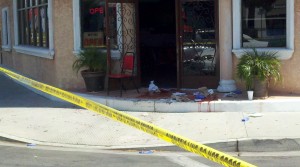 Members of law enforcement have converged at Marquez Restaurant at
Rosecrans Avenue
and Pontlavoy Street in Norwalk to investigate a stabbing on Saturday afternoon that has left one person in stable condition.
According to a spokesperson at the Norwalk Sheriffs Department, the stabbing took place at 1:28 p.m. near the popular local establishment that has been in operation for generations.
The entire neighborhood has been cordoned off by members of the Norwalk Sheriff's Department. The stabbing victim was taken to a local hospital and the suspect or suspect(s) remain at large.
Blood can be seen visible in entrance door of the popular eatery in front of Marquez Restaurant.
PHOTO EXCLUSIVE BY TONY AIELLO. LOS CERRITOS COMMUNITY NEWSPAPER. LA MIRADA LAMPLIGHTER.