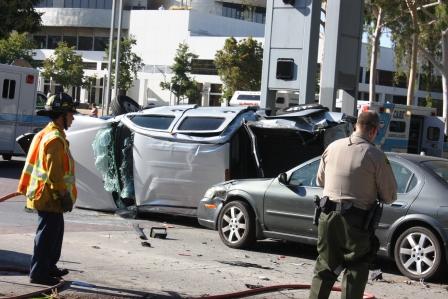 BY RANDY ECONOMY
AWFUL AFTERNOON BY MY ALMA MATER, CERRITOS HIGH SCHOOL.
Members of the
Cerritos
and Lakewood Sheriff's Station were on the scene after three
cars
collided violently. One of the cars, a large
sports utility vehicle
was laying on its side after apparently flipping sideways. Two other cars were are totally destroyed in the accident.
Hundreds of Cerritos High School students were seen around the crash site, in addition to several law enforcement officials as well as firefighters and at least four ambulances.
"I saw it happened. It was horrible. All of a sudden, three cars just starting flying in the air," said a Cerritos High School student who did not want to be identified. "I hope everyone is okay," he said.
Cerritos High School Principal Janice Peterson could be seen at the crash site talking to at least two students who were apparently were involved in the accident.