2:33 a.m.
Incredible night here in my hometown of Cerritos, California. One of the most infamous men in the world has been seen for the first time....sort of. Nakoula Basseley Nakoula was wrapped up to protect his identity as he was taken to the Cerritos Sheriff's Station for questioning.... He is not under arrest. He will probably be taken to a "safe place" to get away from the glare of the world wide media....Thanks to Eddie Calderon, from NBC 4 here in Los Angeles for letting Los Cerritos Community Newspaper have this FIRST image of Nakoula.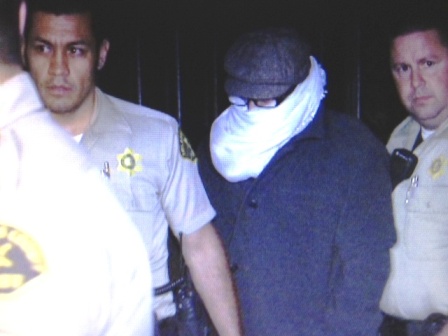 NBC4 captured this photo of Nakoula Basseley Nakoula (center) as he was taken in for an interview to the Cerritos Sheriff's Station. Photo Taken by Eddie Calderon for NBC4 Los Angeles Photo
Randy Economy
Anti-Islamic Film Maker Nakoula Basseley Nakoula has been taken to the Cerritos Sheriff's Station by law enforcement officials just after midnight.
Nakoula was escorted by deputies from his Park Street home as members of the media took photos of one of the most sought after people in the world.