This map shows the incorporated areas in Los Angeles County, California. Cerritos is highlighted in red. I created it in Inkscape using data from the Los Angeles County Website (Los Angeles County Incorporated Area and District Map (PDF). (Photo credit: Wikipedia)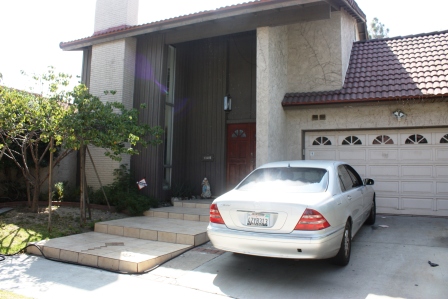 WHAT A MORNING HERE IN CERRITOS!
OMG. All of the type of breaking news stories ALWAYS happen on a THURSDAY here for Los Cerritos Community Newspaper.
By Randy Economy
Throngs of media from all over the world converged on a quiet
Cerritos
cul-d-sac on Thursday morning after it was revealed that an
anti-Islamic
filmmaker
responsible for sparking worldwide violent protests was staying hidden inside his two story home.
The Cerritos resident who allegedly goes by the name of Nakoula Basseley Nakoula, 55 appeared to be hidden inside his
Park Street
home while at least 30 media trucks, and dozens
reporters
and photographers attempted to contact the filmmaker.
Lying out in front of the home was a large solid oak head board, and a tattered cloth sofa.
On the doorstep was a statue of the Blessed
Virgin Mary
, a pair of woman's
tennis shoes
, and several flyers from local Cerritos area businesses. In addition, the front door was missing a bottom lock with a hole in the door that had
masking tape
affixed to the inside making it difficult.
Los Cerritos Community Newspaper attempted to contact and interview Nakoula to no avail. The home is located near Frontier Park on the 12600 block of Park Street. While at the front door, an
LCCN
reporter could hear what appeared to be noise
inside the home.